"Creo Alley has the most exotic Creo in all of Zenith."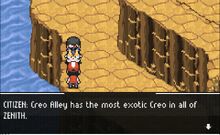 Creo Alley is a market in Carbon City which offers 5-Star Creo ranging in price from ᵶ500 to ᵶ75,000. This outdoor market, located to the upper left of the EvoCo, lower right of the entrance to the city, can be a very helpful tool for new players, as it gives access to Creo that would not be easily available until later in the game.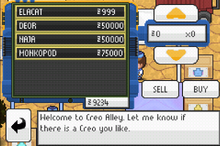 All creo bought come at Level 5.
50% off discount from the Player Ability 'Bargainer' does apply to all Creo.
Creo Available(By Price):
Ad blocker interference detected!
Wikia is a free-to-use site that makes money from advertising. We have a modified experience for viewers using ad blockers

Wikia is not accessible if you've made further modifications. Remove the custom ad blocker rule(s) and the page will load as expected.